These Funfetti Pancakes are great for everyday celebrating. From general holidays, to just because Sundays, there is no wrong time to whip these up.
Little G loves it when I shake extra sprinkles on top and whipped cream is always welcome in his book. Uncka makes sure to stack the whipped cream high and even give a little bit of cream on the side, cause that's his favorite part.
What makes Funfetti different than Birthday Cake is the type of sprinkles used. Funfetti uses small, coin-shaped sprinkles, and birthday cake uses long jimmies sprinkles.
While these are great for celebrating, when it comes to birthdays, I make a big stack of Birthday Cake Pancakes for Greyson. And be sure to always serve your pancakes with WARM maple syrup, the real kind!
Jump to:
Ingredients
Mixing up a batch of this Funfetti Pancakes batter is super simple and easy. The specific sprinkles are the only out-of-the-ordinary ingredient you need for this recipe. Thankfully they can be found at many grocery stores.
Beyond that, everything else I consider pantry staples. I ALWAYS have flour around, and butter in the fridge. Sometimes I substitute the cow's milk for whatever alternative I have on hand, but real cow's milk gives the pancakes the best lift.
What you need:
Unsalted Butter
Whole Milk
Vanilla Extract
Almond Extract
All-Purpose Flour
Granulated Sugar
Baking Powder
Baking Soda
Kosher Salt, Morton's
Eggs
Confetti Coin Sprinkles
Whipped Irish Butter
Maple Syrup
Whipped Cream
See the recipe card for full quantities.
Use the JUMP TO RECIPE button at the top of the post, or scroll to the bottom of the post to see the full recipe card with ingredient measurements and instructions.
Method
First, melt the butter in a saucepan over low heat on the stove. When no solids remain, add the milk to the pan and just continue warming until no lumps of butter remain, the milk does not need to simmer or boil.
When adding cold milk it can make the butter lump up, just warm it enough that the butter becomes liquid again.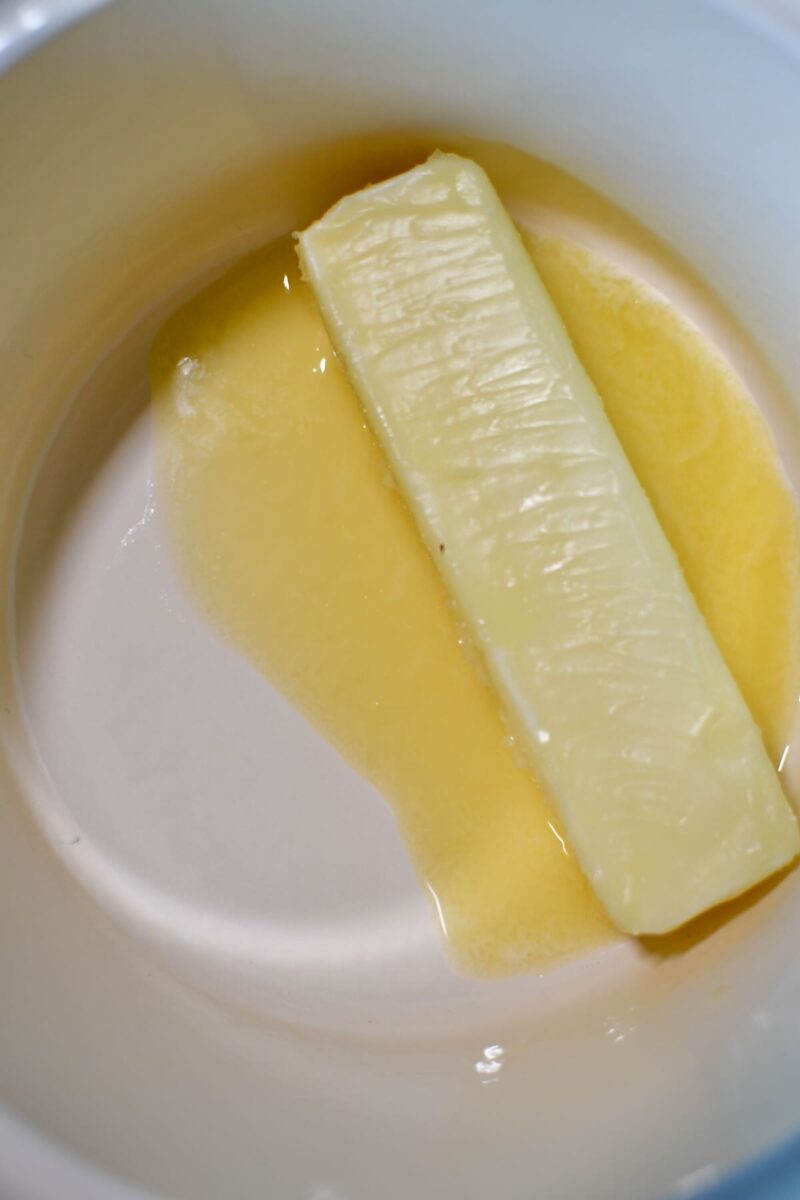 Stir the dry ingredients together with the milk/butter mixture in a large bowl until well combined. Then fold the eggs into the mix just until fully incorporated.
Let the batter rest for 10 minutes before you begin cooking the pancakes. This is the secret to extra fluffy, cloud-like pancakes. Just before you begin cooking the pancakes, stir in some sprinkles, very gently so they don't start to melt into the batter.
To cook the pancakes, heat a griddle over medium heat on the stove, and be patient. Heat it for at least 5 minutes to get fully warm.
Then drop 2-ounce ladles of batter on the hot griddle and cook till it gets very bubbly and the bubbles begin to pop. Flip and cook 30-45 seconds longer till fully cooked.
Stack the cooked pancakes up to ensure they finish cooking, the same way you'd stack tortillas and put them in a warmer or cloth to finish. Pancakes finish cooking all the way through in the same way as well as keeping the first cakes warm as you cook the rest. This ensures not wet or soggy middles.
To serve, stack the pancakes high and top with whipped cream and more coin sprinkles. Finish with a hearty drizzle of REAL maple syrup as desired!
Substitutions
Let's chat about how to make these pancakes gluten, or dairy-free if you or someone you love needs to follow those dietary guidelines for their health.
Flour - If you need to make these banana pancakes gluten-free, use a quality cup-for-cup flour swap. The one I linked here is really high quality and has great results.
Milk - If you are dairy-free, you can use almond milk, but my suggestion is cashew for its higher fat content. Pancakes may stick a bit when using almond milk, and you may need to grease the griddle or pan more often during the cooking of your pancakes.
Butter - You can use a vegan butter substitute or plant-based butter. A bit of a more economical swap is vegetable or canola oil.
Almond Extract - If you don't have almond extract you can use only vanilla extract, and vice versa.
Sprinkles - While the coins make it Funfetti in my book, you can really make pancakes with just about ANY type of sprinkles you have on hand.
Equipment
These are my favorite little skillets for making pancake toppings and syrups in. You can also toast nuts for use in them too.
My number one, most favorite tool for perfect pancakes is a Cast-Iron griddle. They build up a strong, natural, non-stick coating over time and make for BEAUTIFUL pancakes.
Be sure to season a new griddle, every time you use and wash it (with soap) with this cast-iron oil to build THE BEST non-stick surface.
I like a really sturdy, metal spatula for flipping pancakes. It helps them not stick to it, and makes for a perfect flip, no floppy half-turned pancakes, It's got to be THIS spatula for me!
The use of a 2-ounce ladle makes THE perfect-sized pancakes, in my opinion. They are just the right size and easy to flip.
Storage
While pancakes won't spoil if left on the counter overnight, they are just like a cake, biscuit, or cookie in this way. I prefer to place them in a zip-top bag or air-tight container in the fridge.
You can also freeze pancakes. To do so, lay them flat on a tray, not stacked, then once frozen place them in a freezer bag and store for up to 3 months.
Reheat leftover Funfetti pancakes, from the fridge or freezer, in a toaster, or toaster oven for best results.
Top Tips
When making the pancake batter, ensuring it rests for 10 minutes is a HUGE gateway to SUPER FLUFFY pancakes. This allows the leavening agent to fully develop and lets the gluten strands in the flour relax.
When you add the sprinkles, quickly and gently fold them in, then take care to not stir the batter again. After the sprinkles are added, they start to melt, so just dip the batter out to cook it, but don't stir it or you'll get a brown, not cute batter.
Exercise patience and let the griddle get really warm before you start cooking. A griddle that is too cool will cause the pancakes to stick to it. I use a really Well-Seasoned cast iron griddle that requires no buttering due to the amount in the actual pancakes.
If you can use a small amount of high-heat oil like vegetable or grapeseed to grease your griddle if needed. You should only need to do this once before you start cooking. Use a paper towel to spread an even and thin layer over your griddle.
I prefer to cook on medium, to just under medium heat so my pancakes can cook quickly. I also prefer only to cook 2 pancakes at a time so I have plenty of room to flip.
Be sure to stack your pancakes after cooking. This allows them to stay soft as well as allowing the middles to finish cooking while also staying a little JAMMY SOFT. That's what I call it anyway. It helps create super tender pancakes.
FAQ
What is the secret to making the best pancakes?
Be sure all of your ingredients are fresh, especially the baking soda and powder. Also, take care not to over-mix the batter or they will get rubbery. Cook them on a well-heated griddle or pan. If it is too cold they will stick.

Do you use baking powder or soda for fluffy pancakes?
A combination of the two is what gives these pancakes such great lift. When they interact with the acid that the milk has in it, they create air bubbles and that is what makes the pancakes ultra fluffy.
Should you let pancake batter rest?
YES! Allowing it to rest lets all of the leveners become active giving them great lift. It also allows the flour to fully absorb the liquid and tighten up the batter which also helps make them fluffy.
Related
If you LOVE pancakes like Greyson and me, try these other great recipes:
More recipes that are just FUN!
The most fun cookie ever is Uncka's Fluffernutter Cookies that he got to bake for Joanna Gaines in the Silos Baking Competition.
When you want to do something for someone you love, make our friends Giant Sugar Cookie with Raspberry Buttercream to spoil them!
Yield:

12-14 pancakes
Funfetti Pancakes
These Funfetti Pancakes are great for everyday celebrating. General holidays or just because Sundays, there's no wrong time to whip these up.
Ingredients
8 tablespoons Unsalted Butter, melted
1 ½ cups Whole Milk
1 tablespoon Vanilla Extract
1 teaspoon Almond Extract
2 cups All-Purpose Flour
¼ cup Granulated Sugar
1 tablespoon Baking Powder
2 teaspoon Baking Soda
1 teaspoon Kosher Salt, Morton's
2 lg Eggs, lightly beaten
¼ cup Confetti Coin Sprinkles
Whipped Irish Butter, for serving
Maple Syrup, for serving
Whipped Cream, optional for serving
Instructions
In a 2-quart saucepan on the stove, melt the butter over low heat. Add the milk to the pan and heat just till warm and any butter that solidified is liquid again. Do not boil. Let cool for 5 minutes, then stir the vanilla and almond extract into the milk mixture.
In a large bowl, whisk together the flour, sugar, baking powder, soda, and salt.
Slowly whisk the warm milk mixture into the flour mixture, just till a lumpy mixture forms.
Crack the eggs into the bowl and whisk just till incorporated. Gently fold in the sprinkles.
Let the pancake batter rest on the counter for 10 minutes.
After the batter has rested for 5 minutes, warm the griddle on the stove, over medium-heat I suggest a cast iron griddle. It is important to let it get hot till it begins to smoke the tiniest bit, then you know it is ready to be cooked on.
Turn the heat down two marks on the stove dial, just between medium, and medium-low.
Using a 2-ounce ladle, drop 2 rounds of batter on the griddle at a time. Cook for 30-45 seconds, just till the edges begin to set.
Flip and cook a further 45-60 seconds, then remove to a platter.
Pancakes can be kept warm in a 200˚F oven if needed.
To make whipped Irish butter, beat 4 tablespoons in the bowl of a stand mixer. I like to use my flex edge flat beater it gets the butter extra fluffy, and beat for 3-4 minutes on medium-high, with a pinch of kosher salt.
Serve the pancakes with some whipped cream on top and more sprinkles. Add a dollop of butter on top and warm maple syrup, the real kind as desired.
Nutrition Information:
Yield:
8
Serving Size:
1
Amount Per Serving:
Calories:

444
Total Fat:

18g
Saturated Fat:

10g
Trans Fat:

0g
Unsaturated Fat:

7g
Cholesterol:

86mg
Sodium:

711mg
Carbohydrates:

65g
Fiber:

1g
Sugar:

37g
Protein:

6g
Food Safety
There aren't many concerns when it comes to pancakes, but here are a few tips to help ensure the best experience with your pancakes.
Ensure your pancakes are fully cooked, as eating raw pancake batter is not advised because it contains raw eggs.
The USDA advises to not leave cooked foods at room temperature for longer than 2 hours, 1 hour if the environment is above 90˚F.
That said, pancakes contain the same ingredients as cakes, biscuits, and cookies so they can be stored at room temperature.
I personally advise keeping them in an air-tight container or zip-top bag and warming them in a toaster or microwave before eating leftovers.
Never leave cooking food unattended.
Always have good ventilation when using a gas stove.